NOG 20 nun am 22. Mai
BECAUSE OF CORONAHAD TO THE GALA NOWPOSTPONED TO MAY 22nd
New date will follow shortly, everything stays as agreed!
With the kind permission of www.shogun.at
In cooperation with the kickboxing club Octagon pro Gym as match maker, the next TOP event of knock-out sport promotion will take place in May . Partners are again "K -1 AUSTRIA" and our long-term partner in Asia "YAKUZA SPORT PROMOTION". As well as our partners from ISKA EUROPA and AUSTRIAN MUAYTHAI COUNCIL
TOP NEWS: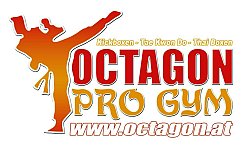 Furthermore, we are still negotiating with one of the largest globally active organizers "Global Gladiator Games" or "Triple GGG" as our American friends say.
What is for the "20. Night of Glory "planned?
Confirmed as the main fight is a Ladies K-1 title fight in the heavyweight + 66Kg by Alexandra "GODZILLA" PETRE from Vienna against the reigning WKF and EMC European Champion and also WTKA World Champion from Ukraine Alisa "FOX" BAZHUKOVA / Аліса Леонідівна Бажуконідівна Бажукона
As is well known, the Ukrainian won the first battle in Pershotravensk on October 17, 2020 in Ukraine on points against "GODZILLA" .
This time, Petre wants a clear and unambiguous decision.
And another strong champion from Germany comes to a K-1 Europe title fight.
Georg M. OGBEIWI from the Gym Fit Fighters Breisgau in the state of Baden-Württemberg is well known as a TOP technician in the scene.
Today Ogbeiwi is eighth in the world rankings.
Now at the 20th Night of Glory in Korneuburg near Vienna he would like to bring the PRO-AM European Champion title in K-1 in Lightheavyweight – 81 kg / 178 lbs to Freiburg.
Because of Corona, the planned Intercontinental title fight between Alexandra Petre and Rosie SANDIFORT from Wellington in New Zealand had to be postponed.
Rosie is currently on position no. 7 in the PRO-AM world ranking .
This title fight could also take place first in Wellington, New Zealand.
A TOP fighter and current title holder from the Australian (!) Continent
We are also talking about a possible PPF world title fight Austria vs. Germany in the super heavyweight + 91 kg / + 200 lbs. The sponsors will have the last word here too.
New partners and sponsors are welcome!
If you have a suitable fighter, please email us without obligation
Please make a note in your schedule!
If you would like to be a sponsor or partner at an international TOP event, please contact us without obligation.